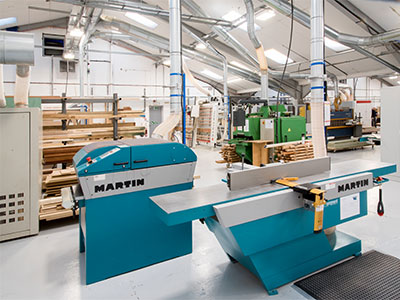 Growing Demand for Second Workshop
In the last five years, Norfolk-based Bill Cleyndert & Co Ltd have gone through considerable change, which has seen the high-end residential joinery business acquire a traditional furniture business and buy a second workshop in order to keep up with growing demand. This investment has meant the full refurbishment of an old workshop and the installation of a brand-new extraction system from experienced wood waste extraction specialist, Dustraction.
"We have grown significantly since 2015," begins Mandi Cleyndert, Managing Director of Bill Cleyndert & Co Ltd. "We had reached maximum capacity at our factory in Fakenham and we were on the brink of having to turn work away." To overcome this, the family-run business bought a traditional woodworking business and, following the re-training and development of its workforce, added a second manufacturing site to produce high-end cabinetry.
"In April last year, we purchased an old two-bay workshop in Norwich to home our extended workforce. One half of the building had been inhabited by a small metalworking company and the unit didn't have basic utilities. The whole place needed to be fully stripped and repurposed for joinery manufacturing but, in order for us to keep on top of our production timetable, we needed the new premises to be fully up and running by October 2019."
New Dust Extraction System Installed
As well as installing new electrics, heating and plumbing, a new extraction system was crucial to the project's success. Mandi explains, "Dustraction installed the extraction when we added a bio-mass burner in our Fakenham site several years ago and the Dustraction team has continued to service our extraction equipment. We've always had a great working relationship with them and they were our preferred supplier on this project, but we still had to benchmark them against other extraction specialists. Not only did they offer us a solid proposal, we had confidence in their abilities as a company.
"Service is particularly important to us and having confidence that a company can deliver on its promises when working to a tight time scale is crucial. Dustraction had delivered in the past and we knew they could deliver again."
Bill Cleyndert & Co Ltd created a floor plan that outlined where 14 woodworking machines would need to sit, including the possible accommodation of a further CNC machine. "We based our plan on the company's best practices, existing lay-out and flow in the Fakenham workshop. Dustraction was also told which machines were being moved to the new workshop and any new machines we were going to be investing in before the site would be up and running, giving them a good insight our requirements and allowing them to put a technical plan in place."
Dustrax Woodwaste Filter Installed
The installation included a Dustraction's Dustrax No 27 RV Series woodwaste filter. The energy efficient design, which is unique to Dustraction, utilises a tubular sock-type filtering system and comes complete with an automatic shaker cleaning mechanism. The woodwaste is transferred into the end of the hopper section via a main floor-mounted extraction fanset and is discharged into bulker bags, ready for the woodwaste to be used as fuel for the company's bio-mass burner. Mandi adds, "As well as offering green credentials, the design offers some flexibility in terms of machinery movement and the addition of further machines but, with the site restricted by neighbouring units, the focus was very much on good quality and reliable extraction.
"Now, thanks to the woodwaste filter, the woodwaste we produce at this site will help us run our main site in Fakenham. While it's too early to see a return on investment, if the extraction system continues to run how it is, it will be an extremely efficient piece of equipment."
Mandi adds, "We have recommended Dustraction to businesses before and we will continue to do so. We find the team to be very amenable, responsive and we enjoy working with them. They are knowledge about what they do and because of that, we've put a lot of trust in them and the services they offer. When working on installations like this, we know we are very demanding and want things done quickly. Having a workshop set up in less than six months was a huge feat but it was achievable. Realistically, Dustraction had an eight-week turn around to get the job done and they delivered on time and in budget. This is what you can expect when working with Dustraction and because of that, we wouldn't hesitate to use them again."